KEEP FLOWERBEDS HEALTHY AND PROPERLY DRAINED STARTING WITH ATRIUM GRATES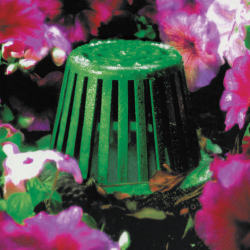 Flooding in flowerbeds can lead to more issues than just a mucky mess. Not only can it oversaturate the soil, smothering roots and killing plants, but it also leads to stagnant water which produces foul smells and mosquito breeding grounds. Water that can't properly drain can potentially seep into your home's foundation and result in costly property damage. Having a proper drainage system in place can effectively capture and release the runoff away from property.  
Choosing the right drain grate plays a significant role in your drainage system. When it comes to mulched landscape beds, natural areas, and window wells, your best bet is to choose an atrium grate rather than a flat grate. We'll explain why the atrium grate is a better solution for areas with leaves and mulch.  
What makes an atrium grate different from a flat grate? 
Flat grates lay low to the ground and can get easily clogged in areas that are mulched or contain leaves or bark, preventing them from being able to drain water effectively. The atrium grate has a sturdy dome design which rises above the surface of the ground. Leaves, mulch, and other debris are blocked near the base while water continues to drain from the top.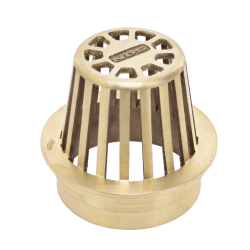 Do atrium grates work on drain pipes? 
Yes, there are atrium grates that fit directly onto drain pipe to form an area drain in spaces such as a landscape bed that receives water runoff from the roof. NDS atrium grates are available in a variety of colors and materials, and come in a range of sizes to fit onto drain pipe, fittings, and even the 6 in. Spee-D® catch basin drain. 
So that means I can use an atrium grate on a catch basin? 
Absolutely! In addition to the atrium grate for the 6 in. round Spee-D catch basin, you'll find catch basin atrium grates that fit onto the square 9 in., 12 in., and 18 in. catch basins.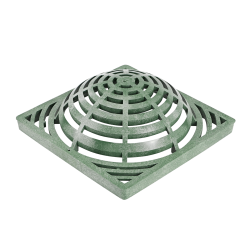 NDS also offers convenient kits to make installations easier. The 6 in. Spee-D catch basin kit includes the 6 in. round catch basin and black atrium grate. The 9 in. and 12 in. square low-profile adapter kits include the low-profile adapter, black atrium grate, and an outlet adapter. 
We're here to help! 
NDS is the preferred choice of contractors with resources and products to help make your drainage project a success. Our grates, as a part of a complete drainage system, can help prevent flooding and preserve the health of your flowerbeds to make your yard look its best.
Find the perfect grate for your space at NDS.